Apple has been a company which has always worked its way forward on the innovation front. The company has been coming out with some of the most innovative technology in recent times, and has been the force behind some of the major innovations of the modern age. Being led by Steve Jobs in the past, innovation has always been the key focus for the company, and the iOS 9 that was recently released showcases several new innovations from Apple, one of which is the ability to take Live Photos. This has been one of the most talked about features of the iOS 9 update for the users of iPhone 6s and 6s plus. While only the users of the latest generation of iPones can capture Live Photos, all Apple iPhone devices north of the iPhone 4s have received the iOS 9 update and can see these photos.
Live Photos are basically motion enabled images where users can capture a few seconds before and a few seconds after the photo has been shot. The problem with live photos was that there were several devices which were able to capture these photos, but very few platforms where they could actually have been shared. Facebook's involvement comes as a major boost to these photos.
As per latest reports, Facebook has, starting today started the feature to upload live photos on iOS 9 enabled devices. This update comes in as a gradual release and will not be released in all the iPhones at once. While the initial batch of users would get it from today itself, the update will be fully implemented by the January of 2016.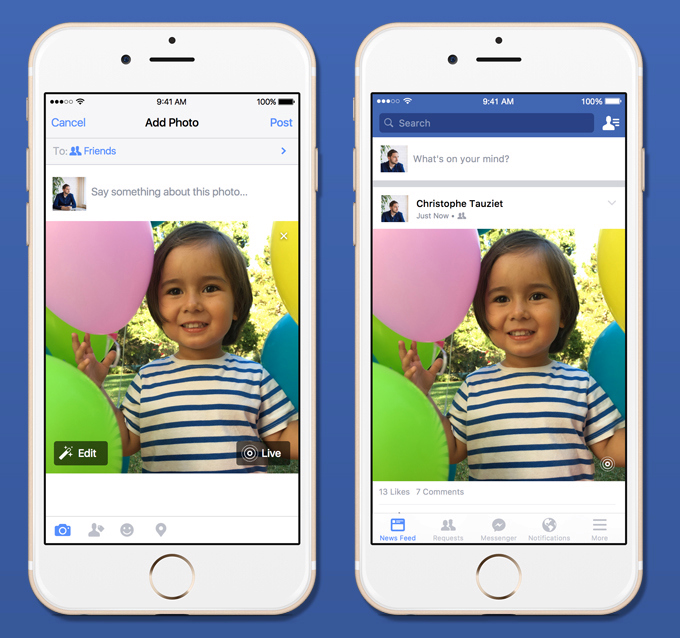 The company has been coming out with a large number of updates and upgrades recently, including the 3D Touch update for Facebook Messener, which brings the power of 3D touch to the users of the iOS. They has also tied up with Uber and users can now book cabs directly from the Facebook Messenger app!