A company which has been around for a comparatively shorter time, Google has managed to achieve much more than what anyone expected of them in 18 short years! Google, since their arrival to the scene, have managed to create some of the most incredible services of recent times. While the company initially took off as a search engine service, it has since blossomed into a totally different form. Google, today, comes with so much more than what anyone ever expected of them. The company is now in your mobile phone, in your computer, in your car, in your dictionary, and in so many places you least thought it would! The Google Play Store has been one of the biggest factors which has helped increase the google presence, as that is the direct medium of providing users with the Google apps.
However, the Google Play Store in itself was in quite a threat recently, as it was reported that 13 'malicious' apps had been recently pulled down by Google. Google was notified by Security researchers that these applications make unauthorized downloads to the devices, which can cause a potential of a botnet like network being created in the Android systems. They copy some files to the system partition which remain even after a factory reset. This was indeed an alarming situation for Google and the company was prompt to react.
The removed applications include: Cake Blast, Jump Planet, Honey Comb, Crazy Block, Crazy Jelly, Tiny Puzzle, Ninja Hook, Piggy Jump, Just Fire, Eat Bubble, Hit Planet, Cake Tower, and Drag Box
Lookout's Chris Dehghanpoor noticed these apps, and said that one of these apps had over a million downloads, which is quite a threat! The app would automatically give itself positive reviews from the users' accounts. As per the researcher, the best way to get your system clean if you are infected by any of these, is to re-flash a ROM supplied by the manufacturer. Here's an image from Lookout: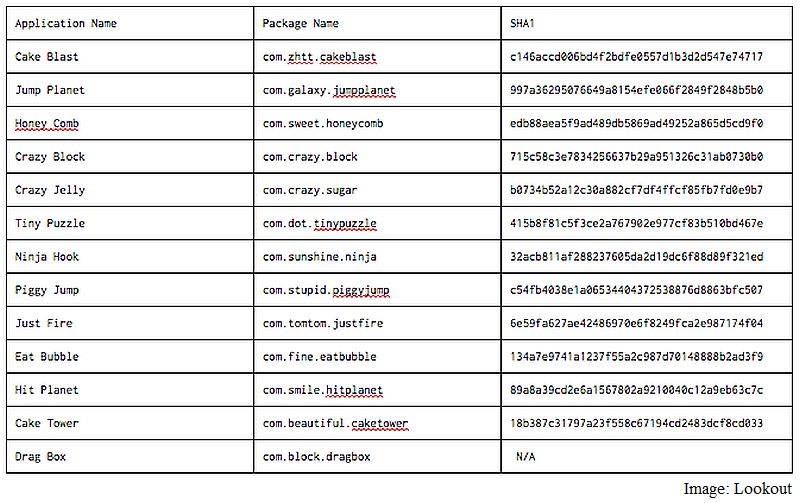 "It seems likely that over 2-3 months, the malware authors used different names, games, and techniques to see what app they could publish in Play while flying under the radar," said Chris Dehghanpoor. Last November a similar attack was detected via a malware family which went by the name of Shedun. As per Lookout, more such malware is existing out there.